Ureteric Stents
Allium's large caliber,
ureteral stent
Ureteric Stents
Allium's large caliber,
ureteral stent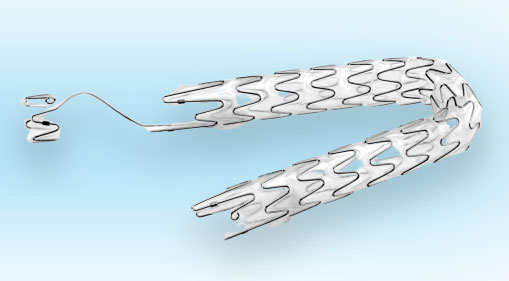 Allium's Ureteral Stents are self-expanding large caliber stents, 24Fr – 30Fr (8mm, 9mm and 10mm) in diameter, made of a super elastic nitinol alloy covered by a unique polymer, which offers long term treatment options for "simple obstructions" as well as complication management.
The Allium Ureteral Stents are intended for temporary, long or short-term use in malignant or benign Ureteral strictures, as well as a first /second line treatment option in various complications management indications. Allium Ureteral Stents are mounted on a ready-to-use 10Fr delivery system and the procedure can be performed either retrogradely or percutaneously.
The Allium stent benefits:
Long indwelling time of up to 3 years
Fully prevents tissue in growth
Easy insertion and stent positioning
Excellent patient comfort
Anti-reflux design
Can be placed Antegrade or retrograde
Easy removal of the device by simple use of graspers
Unique anti – migration anchor design
Product Models
Delivery system – the URS can be inserted using an endoscopic (retrograde), percutaneous (antegrade) insertion or a combined antegrade & retrograde insertion into the ureter. Stent sizes available in diameters of:
8mm (24 Fr)
9mm  (27Fr)
10mm (30 Fr).
Lengths of 80mm, 100mm,120mm and 200mm for retrograde system without an anchor, 100mm and 120mm with ancchor
Main Features:

Long indwelling time of up to 3 years
Prevention of tissue ingrowth

Excellent voiding control
Easy insertion under topical anesthesia
Excellent patient comfort